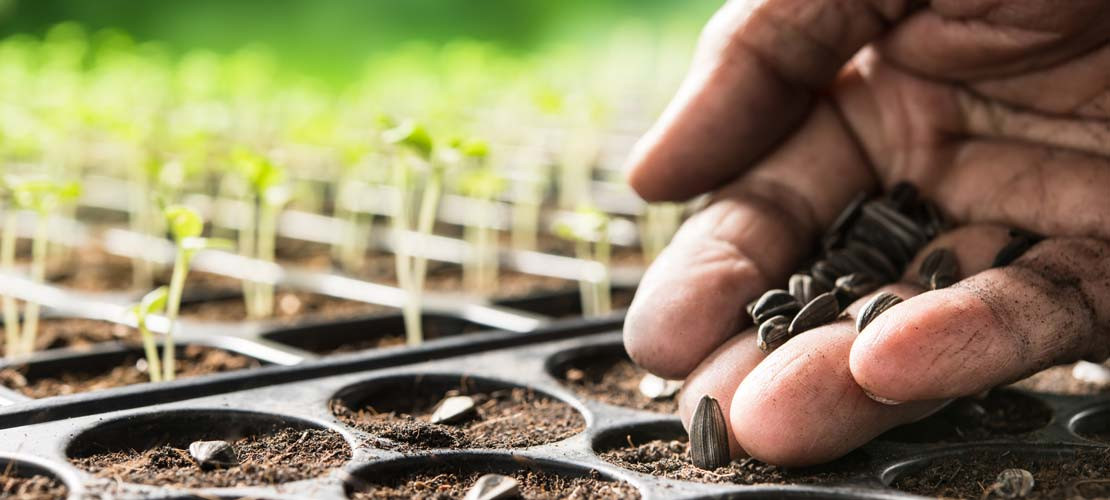 If some cataclysmic event occurred which put the survivors in a primitive existence situation, one of the priority survival items would probably be vegetable and grain seeds. These seeds might represent the ability to obtain edible food for yourself and what­ever livestock you possessed.
This paper only covers what seeds should be selected, how to go about acquiring them, and how to store them to stay viable for several years. It, therefore, assumes that your survival library already contains books on gardening and food preservation.
Most general garden varieties should be included. These in­clude such vegetables as: artichoke, asparagus, beans, beets, broccoli, cabbage, carrots, cauliflower, celeriac, celery, cel­tuce, chives, corn, cucumber, eggplant, garlic, gourds, kale, leeks, lettuce, mustard greens, onions, parsley, parsnips, pea­
nuts, peas, peppers, potatoes, pumpkin, radishes, soybeans, spinach, squash, sunflowers, swiss chard, tomatoes, turnip, watermelon and zucchini.
You should also include seeds for vegetables which are pri­marily intended for livestock feed. Included in this category are: field corn, wheat, oats, sorghum, sunflowers, sugar beets, mangels, large carrots, Jerusalem artichokes, turnips, ruta­bagas and potatoes.
Gardening for Winter Storage
Many vegetables, if properly stored, will keep for several months or longer in root cellars. Among these are dried beans, beets, cabbage, carrots, cauliflower, celery, Chinese cabbage, endive, horseradish, kale, kohlrabi, leeks, onions, parsnips, dried peas, peppers, popcorn, pumpkins, salsify, squash, sweet potatoes, tomatoes, turnips and winter radishes.
The best all-around book I have found on root cellaring (and preserving food in general) is Putting Food by Ruth Hertzberg, Beatrice Vaughan and Janet Greene. It is published by the Stephen Greene Press, Brattleboro, VT and is available from most mail-order book companies specializing in livestock or homesteading books. It is an excellent book well worth the price.
Several vegetables deserve special attention for inclusion in your seed stockpile:
Potatoes: That's right - potatoes can be grown from seeds. How­ever, since the standard practice is to plant eyes because they mature quicker with less effort involved, few sources of potato seeds are available. One variety currently available is "Explorer White", which is available from several seed companies as a novelty seed.
Sorghum: Sorghum can be chewed in the stalk stage or crushed and boiled down for sorghum molasses syrup.
Tobacco: Can be grown in a variety of areas for smoking.
Giant Vegetables: Several varieties have been developed in "giant" form. These include cabbage, sweet onions, sweet corn, radishes, cucumber, squash, pumpkin, watermelon, cantaloupe and tomatoes. These have not become popular because they are too big to be grown and sold commercially. However, in a survival garden, they show promise of providing a large bulk of vegetables in the same area.
Edible Soybeans: Nutritious and vitamin rich. Can be cooked green or, if dried, can be ground into soy flour for baking.
Beans: Several varieties of beans can be dried for extended storage. These include: great northern, red beans, taylor (horticultural) beans, navy beans, pinto beans, soldier beans, black turtle beans, fava beans, pink chili beans, Swedish brown beans, garbanzo beans, lima beans, kidney beans and black eyed beans.
Sunflowers: If you had to choose just one seed to keep, sunflowers may be your best bet. Just three tablespoons of hulled sunflower seeds delivers about 10% of the adult daily protein needs. Most importantly, it is a high quality protein which has every essential amino acid. They also contain almost every vitamin on the chart except for Vitamin C - and they even develop this one when you sprout the seeds.
Popcorn: Popcorn is easy to grow and produces a great bulk food for the seed size. Popcorn could fill out the stomach during lean times.
Amaranth: Amaranth can be grown for the seeds which, when dried, can be ground into flour.

Do not overlook including various grains in your seed stock­pile (exclusive of any stored for food purposes). Recommended are wheat, rye, barley, oats and alfalfa for both you and your livestock.
Grain seed is slightly harder to obtain and store. However, most communities in a farming area have either Farm and Garden stores or grain elevators which specialize in selling seeds to farmers. It is possible to buy grain seed at these places in small quantities. Grain fumigants are available from many chemical companies to prevent insect damage in stored grain.
Avoid hybrid seeds as they will not produce true to either parent. The standard varieties are harder to obtain, but they can produce seeds for use year-after-year, which is what you should be interested in.
HOW TO ACQUIRE YOUR SEEDS
The most obvious place to acquire your seeds is through the mail-order companies. There are a number of companies scattered around the country.Probably the most popular of these is Burpee Seeds, Warminster, PA 18974 which sells mostly well known varieties. When it comes to finding lesser known or odd varieties, Gurney Seeds, Yankton, SD 57079 leads the list. Some of the com­panies also specialize in seeds most appropriate for a certain area, such as Hastings, P.O. Box 7274, Atlanta, GA 30302 which specializes in the South.
When you order from a national company you may run into the problem of selecting seed varieties best suited for your partic­ular area. These companies generally try to develop seeds which perform well under a variety of situations rather than the best for any one area. In their favor is that their catalogs display and describe the varieties available - including growing conditions.
Mail-order companies may be your only available source of some seeds, such as potato seeds.
Seeds are also available in display racks in almost every department store, hardware store and nursery in the country. These seeds generally come from one of the national companies. Thus, the same limitations apply here also except that your choices are generally limited. The size of the display area prevents carrying more than a few of the most popular varieties. The cost is generally the same as the mail-order catalogs.
In order to reduce the cost of your seed stockpile, consider waiting until the fall when the stores with display racks are trying to get rid of their unsold seeds. You can generally pick up packages of the unsold seeds for $ .05 to $ .10 per package. While this is a great money saving method, your choices will be severely limited to what no one else wanted.
Another method to obtain seeds is to grow your own. In many cases this merely means allowing the plants to "go to seed" rather than picking the vegetables for eating. Some plants must be forced to set seeds and some must be wintered over to produce seeds. Growing you own has the advantage of adapting the seeds to your specific garden soil, fertility, fertilizing method, watering schedule and other individual gardening methods.
An excellent book on growing your own seeds is Growing and Saving Vegetable Seeds by Marc Rogers, Garden Way Publications, Charlotte, VT 05445. Mr. Rogers covers how to grow plants to obtain seeds, how to select seeds, how to collect them, how to extract and dry seeds and how to store them. He specifically covers 46 different vegetables in detail. It is an excellent book for the novice.
Remember that the ability to grow you own seeds may be your only re-supply source in a crisis situation. Therefore, add Grow­ing and Saving Vegetable Seeds to your survival library even if you do not plan on stockpiling seeds.
My recommendation is to grow part of your seeds, use a variety of mail-order catalogs and store display racks in the spring and to add to your stockpile with cheap seeds in the fall.
When acquiring your seeds, keep several aspects in mind:
- Stock several different varieties of the same vegetable. This will give an opportunity to help insure you will have a variety which is best suited to your area - even if you have to move to another area.
- Stock a wide range of vegetables even if you are not familiar with or do not like the vegetables.Perhaps someone else will and it will offer variety to the diet.
- Seeds would make a great barter item in a crisis situation -the trade of a few bean seeds for a cow might be a good deal for both parties.
- Remember that several vegetables can be grown from both root stock and seeds, such as asparagus, onions and potatoes. Do not overlook a vegetable simply because you were not aware it could be grown from seed.
- Different varieties of the same vegetable mature at different times; stock both early and late maturing varieties.
HOW TO STORE YOUR SEED STOCKPILE
The most concise information I have found on the long term storage of seeds is Notes on Seed Storage from the International Food Storage Assn., P.O. Box 249, La Verkin, UT 84745 ($1.00 plus a SASE with two first class postage stamps). Their information addresses such variables as storage conditions, moisture, tem­perature and gases as they affect seeds.
My personal storage method is to put the seeds in the freezer in zip lock plastic bags. According to Growing and Saving Vege­table Seeds, it is possible to double the life of the seed for each 9° F decrease in temperature within the range of 32° F and 112° F. Thus, seeds kept in the freezer stay at the bottom of the range for the maximum protection. To keep, the seeds slightly above 32° F, I have placed them in a small styrofoam container. A refrigerator set on a cold setting will also do nicely. Mr. Rogers also gives many other suggestions for the long term storage of seeds to keep them at their maximum viability.
Another method of storing seeds is the "Survival Garden", which is a vacuum-packed assortment of seeds in a can marketed through Survival, Inc., Box 4727, Carson, CA 90749, for about $10.00. The can contains a good quantity of seeds of green beans, beets, cabbage, carrots, corn, onions, peas, spinach, summer squash and tomatoes. This can, should also be stored in the refrigerator.
ADDING TO YOUR SEED STOCKPILE
Add to your seed stockpile each year. This helps to ensure that you will have viable seeds even if the storage conditions are not optimal and will build up your stockpile for barter purposes.
Seeds definitely deserve to be a prime part of your survival stockpile. They can be obtained from a number of sources and can be stored fairly easily to remain viable for a number of years.