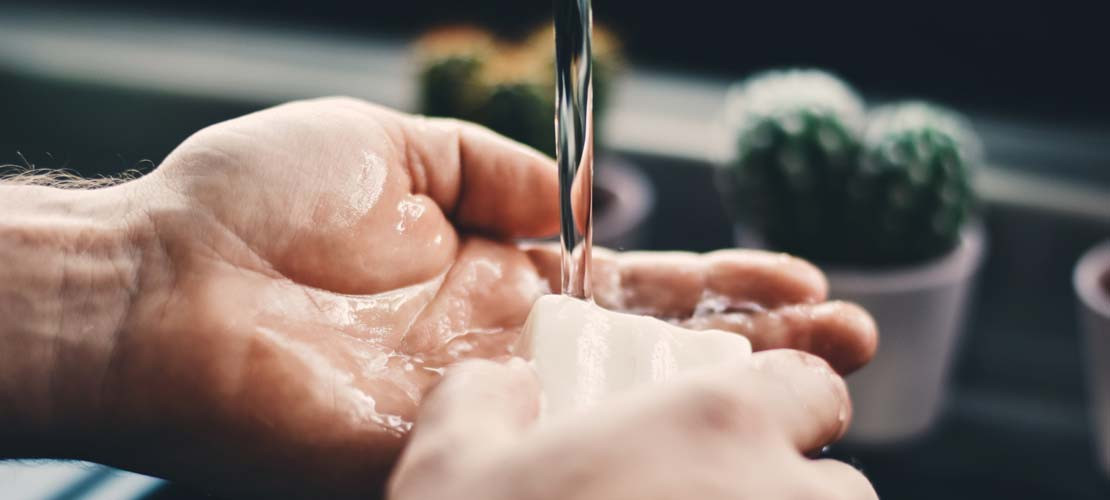 WHAT IS ANTHRAX?
Anthrax is a potentially fatal disease of domestic livestock like cattle, horses, sheep, and goats, in underdeveloped agricultural regions of South and Central America, Southern and Eastern Europe, Asia, Africa, the Middle East, and the Caribbean, as well as in wild livestock in the United States.
Anthrax is caused by the bacterium Bacillus anthracis, which produces spores, usually in the form of a fine white or brownish, grainy powder; that spread the infection. Anthrax can occur in humans who have been exposed to infected animals or animal products or to anthrax spores. Anthrax is not a contagious disease and cannot be spread from person to person.
THE HISTORY OF ANTHRAX
Of all of the major diseases in the world, anthrax, also known as Bacillus anthracis, is positively the one with the longest confirmed history. It was described as a "distinct" disease by the ancient Greeks.. It is thought that anthrax was the 5th or 6th plague of Egypt described in the book of Exodus.
WHAT DOES ANTHRAX MEAN?
The bacterium and its associated disease get their name from the Greek word meaning "coal" because of the characteristic coal-black sore or eschar that is the hallmark of the most common form of the disease.
ANTHRAX USED IN BIOLOGICAL THREATS
Anthrax was first used as a biological threat in 1915 when it was injected into livestock to be released to the enemy. In 1937 Japan began a biological warfare program and anthrax was a part of their program. The U.S. began developing anthrax in 1943. In 1954 the first anthrax vaccines for human use, was developed. Bacteria such as Bacillus anthracis could be released in aerosol form. Anyone who inhaled the substance could be affected.
In the 1980s, Iraq bought anthrax from the American Type Culture Collection (Maryland). The 1995 defection and debriefing of a key Iraqi official provided western intelligence experts with evidence of Iraq's biological weapons program and its production of 8,500 liters of anthrax.
WHAT ABOUT THE VACCINE?
Since the Gulf War, American troops have been vaccinated against anthrax, but what about civilians? Only one American company is licensed to produce an Anthrax vaccine right now. And yet, at this time of national concern over the deadly bacteria, the company has not passed FDA inspections, and the vaccine is only authorized and intended for government use only. The vaccine is not available to civilians yet and won't be for years. So, what can we do as civilians to protect ourselves without the vaccine? Keep reading...it will be explained later.
HOW CAN WE GET INFECTED?
Humans can become infected with anthrax in three ways: cutaneous exposure through a break in the skin like a scratch or abrasion; gastrointestinal exposure by eating contaminated food or oropharyngeal [back of the throat] and inhalation exposure by breathing the bacterial spores.
WHAR ARE THE TYPES AND SYMPTOMS OF ANTHRAX?
The average incubation period for anthrax is up to 7 days, but it can take 60 days or longer for symptoms to develop. Symptoms depend on how the infection was acquired. It is the types and symptoms that will be explained next.
Cutaneous Anthrax
Cutaneous anthrax usually occurs when spores from the bacteria enter a cut or scrape on the skin.
Cutaneous anthrax infection has the following characteristics: 3-5 days after the initial infection, a painless blister appears on the skin that might itch-similar to an insect or spider bite. Within 1 to 2 days, the bump develops into a fluid-filled painless blister. Within 7 to 10 days, the blister usually has a black center of dying tissue (eschar) surrounded by redness and swelling. Additional blisters may develop. Other symptoms may include swollen lymph nodes close to the area of the blister, fever, headache and general feeling of discomfort.
Cutaneous anthrax accounts for 95% of anthrax cases in the United States, and is easily treated with antibiotics, but left untreated, 5% of the cases progress to a dangerous bloodstream infection, which is almost always fatal.
Gastrointestinal Anthrax
No confirmed cases of gastrointestinal anthrax have been reported in the United States. This form of anthrax occurs after eating meat contaminated with the bacteria that cause anthrax. Gastrointestinal anthrax can be more serious than cutaneous anthrax, but can be treated effectively with prompt use of antibiotics. But if untreated, gastrointestinal anthrax causes: ulcers at the base of the tongue or tonsils, sore throat, loss of appetite, vomiting and fever. These symptoms are followed by abdominal pain, vomiting of blood and bloody diarrhea. Within 2 to 4 days after these symptoms develop, fluid (ascites) fills the abdomen; shock and death usually follow within 2 to 5 days.
Oropharyngeal Anthrax
This is the least common form of anthrax. The incubation period is from 1 to 7 days. Initial symptoms include fever, swollen lymph nodes in the neck, severe throat pain, difficulty swallowing and ulcers at the base of the tongue. As infection progresses, swelling can make breathing difficult.
Inhalational Anthrax
The most lethal form of exposure occurs from inhalational anthrax. It is both rare and extremely deadly. Studies of previous cases indicate that a dose of just 2,500 to 55,000 anthrax spores is lethal to about half of the people who inhale them.
Anthrax spores enter the respiratory system when they are inhaled through the nose or mouth. Larger spores may settle in the windpipe (trachea). The immune system reacts by trying to destroy the spores. Some spores may escape and travel to the lymph nodes located in the chest. Smaller spores travel farther down the respiratory tract and invade tiny air sacs (alveoli) in the lungs, where the spores germinate and cause an active bacterial infection.
The incubation period for this form of anthrax may be 60 days or more, although it is usually 2 to 3 days.
The first stage, lasting from hours to a few days, involves flu-like symptoms include chest pains, coughing, sore throat, fever, muscle aches, and weakness. Only at this stage can inhaled anthrax be treated with antibiotics. Antibiotics only prove helpful at the earliest stages of the disease because they fight bacteria, not the toxins the bacteria produce in abundance during the final stage of infection.
The second stage symptoms can progress rapidly after just a few days to include severe difficulty with breathing as lung damage deprives the body of oxygen; the victim then goes into shock, which can develop rapidly; and brain infection called Meningitis may also occur, which develops frequently. Toxins from the bacteria enter the bloodstream and spread throughout the body, causing severe damage to tissue, lungs, and other organs. The infection is difficult to treat after it enters the bloodstream. Death can occur within 24 to 36 hours after such complications occur. Respiratory symptoms may be similar to those of pneumonia. After the disease becomes severe, it is difficult to treat, and survival is unlikely. After the bacteria infect chest tissue, the disease rapidly progresses. This form of anthrax infection usually ends in death within days.
NOTE: Inhalational anthrax is not contagious. You must inhale the spores from the environment to develop this form of anthrax. Even with the outbreaks in 2001, this type of exposure is still very rare.
The symptoms of inhalational anthrax infection may resemble those of influenza (flu), except for these key differences: shortness of breath and a runny nose; both of which are NOT common symptoms of anthrax infection.
HOW IS ANTHRAX TREATED?
Anthrax from all three types of exposures, in the early stages, can be treated with antibiotics such as: cephalosporins, doxycycline, erythromycin, fluoroquinones, gentamicin, levofloxacin, penicillin's, ciprofloxacin, tetracyclines and chloramphenicols (as a last resort). People who have been exposed to the germ, but do not have symptoms, are given an antibiotic for 60 days to reduce the risk of developing the disease.
Prompt treatment may help reduce the potential severity of the infection. There is also a vaccine against anthrax, but currently, this vaccine is not recommended or available for the general public.
HOW CAN ANTHRAX BE DESTROYED?
Anthrax spores may survive in the soil, water and on surfaces for many years. Spores can only be destroyed by steam sterilization, boiling contaminated objects in water for at least 30 minutes, by burning or by using some of the common disinfectants. Disinfection of contaminated articles may be accomplished using a 0.05% hypochlorite solution (1 tablespoon of bleach per gallon of water). Strong oxidizing disinfectants such as hydrogen peroxide, peracetic acid, and iodine are also effective for area decontamination. Chlorine is effective against vegetative (growing) cells.
Decontamination of areas affected by anthrax spores during the anthrax mail attack of September-October 2001 was accomplished by cleaning with strong solutions of bleach (sodium hypochlorite). The spores are very hardy and can survive superheated steam (159° C, 285° F) for 2 hours and can contaminate soil and water for years or decades. Even though the spores are relatively hardy, they are killed in air by exposure to bleach, hydrogen peroxide, ultraviolet light, and vaporous formaldehyde.
HOW CAN I PROTECT MY FAMILY?
If you come into contact with a suspicious letter or package, DO NOT shake or empty the contents; don't try to clean up powders or fluids. Place the envelope or item contaminated in a plastic bag or container. If you don't have a bag, cover it and don't remove the cover. Leave the room and close the door or section off the area to prevent others from entering. Wash your hands with soap and water for 5 - 10 minutes paying close attention to your knuckles and nail beds. Report the incident to local police. List all the people who were in the room. Remove contaminated clothing and place them in a plastic bag that can be sealed and give to law enforcement personnel. Shower with soap and water as soon as possible. Do not use bleach or disinfectant on your skin.
HOW CAN I DECONTAMINATE MY HOME?
Use common household bleach, diluting it to a 9:1 (water to bleach) solution (or the safer alternative: undiluted store-bought 4 % solution of hydrogen peroxide). Wipe and leave it on a hard surface for 10 - 15 minutes. For more absorbent materials, damp wipe solution 2-3 times. BE AWARE THAT BLEACH WILL WHITEN ANY ABSORBENT MATERIAL. Wear rubber gloves during this process. Don't use bleach directly onto skin; it can cause severe burning. The spores lose their disease-causing ability at about 150 °F, which is lower than the boiling point of water at 212 °F. So, you can also heat or boil (safe, heat-resistant) objects to kill spores.
Regular rubber or medical gloves and an appropriate respiratory mask with a HEPA filter (NOT A SURGICAL MASK) which is properly "fit-tested" (that is, someone has to ensure that the mask effectively seals the person's airways), CAN block spores. Unfortunately, you would have to wear these gloves and respiratory mask constantly for them to be effective.
WHAT DO I DO IF I SUSPECT A SUBSTANCE IS ANTHRAX?
Government and private industry leaders are urging these precautionary measures in the event of any suspicious or potentially dangerous situations:

— DO NOT PANIC.
— USE COMMON SENSE
— DO NOT DISCARD THE SOURCE
— ISOLATE THE SOURCE.
— EVACUATE THE IMMEDIATE AREA.
— DO NOT WALK AROUND INTO UNNECESSARY EXTENDED AREAS
— CALL POLICE AT "911"

Although the threat of bio-terrorism is potentially "real", our response is vital to proper management of the threat if we keep calm and act quickly.